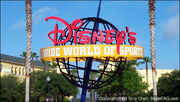 Disney's ESPN Wide World of Sports Complex is a 22-acre sports area in Walt Disney World. It allows visitors to play various sports including:
Baseball
Socccer
Tennis
Cross Country
Athletics
In the Books, The Keepers met here for the Fall Games, which they were all participating in. They had agreed to meet before the games to fiscuss the Stonecutter's Quill. Though before they did, Finn met Jez for the first time. He started staring at her making Amanda stare and give evils at her. Jez then walked over to Finn and started talking to eachother as they were great friends. He was a little freaked out when she knew his name but she explained it was because he was her favorite DHI. She then invited him to a car wash for the Girl Scouts at Dangerous Dan's.
Appearences
Edit
Ad blocker interference detected!
Wikia is a free-to-use site that makes money from advertising. We have a modified experience for viewers using ad blockers

Wikia is not accessible if you've made further modifications. Remove the custom ad blocker rule(s) and the page will load as expected.