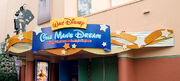 Walt Disney: One Man's Dream is a walk-through attraction at Hollywood Studios.
Kingdom Keepers I: Disney after Dark
Edit
Finn hid in here so he could be there after closing and then steal The Stonecutter's Quill. He ended up sneaking backstage and getting all of the pens in Walt's Office. He then escaped from Security but was almost attacked by somebody who had made ice appear on the door. He ended up chasing a person who he saw running away and ended up running into Amanda, who he thought had caused the ice.
Appearences
Edit
Ad blocker interference detected!
Wikia is a free-to-use site that makes money from advertising. We have a modified experience for viewers using ad blockers

Wikia is not accessible if you've made further modifications. Remove the custom ad blocker rule(s) and the page will load as expected.