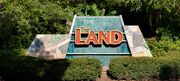 The Land is an attraction at EPCOT that is visited in the books.
Kingdom Keeepers III: Disney in Shadow
Edit
Jess and Amanda enter here to search for Wayne but ended up being persued by a mysterious woman on to Living with The Land. They only just managed to jump off the boat and escape by Amanda pretending she needed the bathroom. However, they got their passes taken off of them.
Later on, Jess returned here with Willa as DHIs. They were looking for clues in Soarin' to try to help find Wyne. After secretly witnessing a test flight for a new Soarin', this time in New York, they ended up in the Projection Booth, there Jess searched the Californian film for ny clues as Will searched the rest of the room. Jess found a frame that wasn't recognizable and realised it was a clue. It was a picture of a Seat Belt. However, due to their excitement, they let the film pass in front of the projector, allowing the people below them to know someone was in the Projection Booth. They quickly wound up the film and Willa checked a log that said about a maintenance check on seat belts that was recent. They then entered onto the catwalks above the ride and only just managed to escape the man persuing them.
Appearences
Edit
Ad blocker interference detected!
Wikia is a free-to-use site that makes money from advertising. We have a modified experience for viewers using ad blockers

Wikia is not accessible if you've made further modifications. Remove the custom ad blocker rule(s) and the page will load as expected.