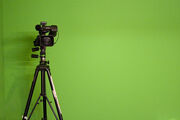 Soundstage B is where the DHIs were created.
Kingdom Keepers I: Disney after Dark
Edit
The Keepers first met here when they were being turned into DHIs. This took seveal weeks to record all of their movements and the speeches against a green screen whilst wearing clothing that was also green and had lots of metal balls on it.
Kingdom Keepers III: Disney in Shadow
Edit
When The Keepers decided to turn Amanda and Jess into DHIs they did a stakeout. They then managed to get in with the help of Wanda whilst Maybeck kep the girls from Nash House busy at Crazy Glaze.
Appearences
Edit
Ad blocker interference detected!
Wikia is a free-to-use site that makes money from advertising. We have a modified experience for viewers using ad blockers

Wikia is not accessible if you've made further modifications. Remove the custom ad blocker rule(s) and the page will load as expected.