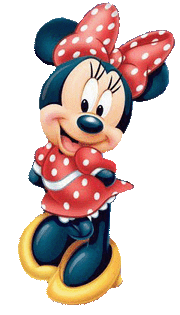 Minnie Mouse is a walk-around character at the Disney theme parks and is Mickey's girlfriend.
Kingdom Keepers IV: Power Play
Edit
When Finn had to break Amanda's spell, Pluto and Minnie came to help. Minnie however didn't speak so it was hard to understand wht she was thinking. She proved great skills in piloting the raft to Tom Sawyer Island. She also showed she has great fighting skills after she knocked out a pirate at the dock of the raft landing. Like Ariel, Minnie shut off about Mickey when asked by Finn.
Appearences
Edit
Books
Kingdom Keepers I:
Disney after Dark:
Absent
Kingdom Keepers II:
Disney at Dawn:
Absent
Kingdom Keepers III:
Disney in Shadow:
Absent
Kingdom Keepers IV:
Power Play:
Appears

Shopping, Mickey Mouse, dates with Mickey, pink, polka-dots, triangles, pyramids, heart-shape, hair bows, baking, cooking, dancing, gardening, flowers, a clean/healthy enironment, fresh air, Swiss cheese, all kind of music, peace, serenity, roller and ice skating

Mickey forgetting their dates and celebrations, parlor pranks, messes, dirt, mud, disasters, litter, pollution, war, chaos, anything she cooks or bakes burnt in the oven or stove, being kidnapped, Mortimer Mouse, Mortimer's harassment, Pete, Sylvester Shyster, Beppo the Gorilla



Ad blocker interference detected!
Wikia is a free-to-use site that makes money from advertising. We have a modified experience for viewers using ad blockers

Wikia is not accessible if you've made further modifications. Remove the custom ad blocker rule(s) and the page will load as expected.