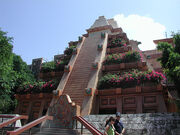 Mexico is a Pavillion at EPCOT.
Kingdom Keepers III: Disney in Shadow
Edit
In this book, Finn, Philby and Amanda entered the Firework Control Booth in the Mayan Temple. Amanda stayed there to act as a lookout whilst th other Kingdom Keepers went to investigate the attractions at EPCOT linked to flying. She saw a bridge lift up and down twice, the second time for an unknown reason.
Kingdom Keepers IV: Power Play
Edit
In this book, Finn and Philby returned to the Control Booth to look at the Security Cameras to see if they could find Charlene, who had Crossed-Over unexpectedly. Finn later returned with Maybeck to find Willa and for Maybeck to set up the fireworks to go off, after they had rescued Willa, to act as a distraction and signal for Philby to Return them.
Appearences
Edit
Ad blocker interference detected!
Wikia is a free-to-use site that makes money from advertising. We have a modified experience for viewers using ad blockers

Wikia is not accessible if you've made further modifications. Remove the custom ad blocker rule(s) and the page will load as expected.