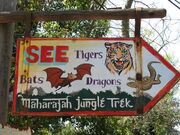 A walk-through attraction, The Maharajah Jungle Trek is one of the main places visited by The Keepers in Kingdom Keepers II: Disney at Dawn.
Kingdom Keepers II: Disney at Dawn
Edit
In the morning, Maybeck went to the Bat enclosure to put the bat spy into prison but was instead attaked by several birds and lost the bat to a monkey who gave it to Maleficent. Later, Charlene was told to keep an eye on the enclosure as she was dressed as DeVine. Charlene then had to go into the enclosure in order to see what was going on backstage. She learnt the Maleficent was loading an ice truck wth ice with the help of monkeys and that the two cages behind contained Willa and Philby. She then reconnected a camera so Amanda could carry on looking backstage while Charlene looked on from the viewing room.
Also, in the tiger yards, Finn and Maybeck made a startling discovery. They find two of the images drawn in Jez's journal, thus convincing Maybeck it was all real. Later on, Amanda, Charlene and Finn went into the Tiger Yards in order to rescue Jez who was under the tunnel connecting the two yards. Luckilly they managed to escape before security got there but not before fighting monkeys and tigers.
Appearences
Edit
Ad blocker interference detected!
Wikia is a free-to-use site that makes money from advertising. We have a modified experience for viewers using ad blockers

Wikia is not accessible if you've made further modifications. Remove the custom ad blocker rule(s) and the page will load as expected.