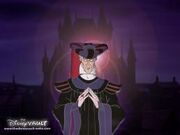 Frollo is the main villain of the 1996 Disney film The Hunchback of Notre Dame and he also makes an appearance in Fantasmic! In the film, He is xenophobic towards gypsies, as he views them as "heathens" and "evil" and he also thinks he is a good man. Like Cruella De'Vil, he doesn't have any magic powers, but he does have authority in commanding the Green Army Men. Aside from being mean and cruel, he hates children.
Kingdom Keepers IV: Power Play
Edit
When The Overtakers crossed Willa into Hollywood Studios, Frollo and his Green Army Men surrounded her. He questioned her about the image she saw Jess draw. When his patience wore thin with her, he told the Army Men to drown her. Luckilly she escaped. Frollo doesn't have any genuine powers but is very powerful in society.
Appearences
Edit
Books
Kingdom Keepers I:
Disney after Dark:
Absent
Kingdom Keepers II:
Disney at Dawn:
Absent
Kingdom Keepers III:
Disney in Shadow:
Absent
Kingdom Keepers IV:
Power Play:
Appears

Serving God, fireplaces, "justice", destroying gypsies, people judging others for their looks, punishing Quasimodo, seeing the people of Paris suffer

Gypsies, the Archdeacon's authority, licentious sinners, Quasimodo, the Feast of Fools, Quasimodo asking to go to the Feast of Fools, children



Ad blocker interference detected!
Wikia is a free-to-use site that makes money from advertising. We have a modified experience for viewers using ad blockers

Wikia is not accessible if you've made further modifications. Remove the custom ad blocker rule(s) and the page will load as expected.