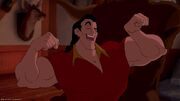 Gaston is the main villain of the 1991 Disney film Beauty and the Beast and is seen the Beauty and the Beast stage show at Hollywood Studios and appears at Gaston's Tavern in Magic Kingdom. He is also a walkaround character. He is a minor character in the Kingdom Keepers Series.
Kingdom Keepers IV: Power Play
Edit
Gaston was one of the Overtakers seen by Finn in the fort on Tom Sawyer Island.
Appearences
Edit
Ad blocker interference detected!
Wikia is a free-to-use site that makes money from advertising. We have a modified experience for viewers using ad blockers

Wikia is not accessible if you've made further modifications. Remove the custom ad blocker rule(s) and the page will load as expected.