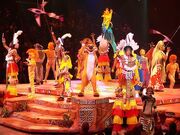 Festival of The Lion King is a show at Animal Kingdom
Kingdom Keepers II: Disney at Dawn
Edit
In this book, Finn and Maybeck was guided into here by Amanda whilst the boys were being chased by Orangutans. Maybeck just jumped over the tampoline in the midddle of the show whilst Finn went underneath it and managed to get one of the Orangutans to get crushed by the bouncing acrobats. Another acrobat jumped down in front of the other ape and they both ran away as Finn met back up with Maybeck.
Appearences
Edit
Ad blocker interference detected!
Wikia is a free-to-use site that makes money from advertising. We have a modified experience for viewers using ad blockers

Wikia is not accessible if you've made further modifications. Remove the custom ad blocker rule(s) and the page will load as expected.