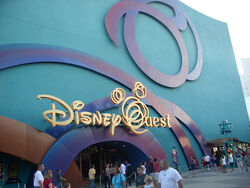 Disney Quest is an indoor, interactive themepark, an electric fiunhouse that is easy to get lost in. The Keepers planned to meet here to just hand out but they soon split up.
Appearences
Edit
Books
Kingdom Keepers I:
Disney after Dark:
Absent
Kingdom Keepers II:
Disney at Dawn:
Absent
Kingdom Keepers III:
Disney in Shadow:
Absent
Kingdom Keepers IV:
Power Play:
Appears

Floor 2: Create Zone

Edit

Cyberspace Mountain

Edit

Finn, Charlene and Amanda had seen Luwouski and had ran to the Cyberspace Mountain. However when they get there, the easy ride for Finn and Amanda, created by Charlene, turns very verocious. Finn and Amanda are left fighting for their lifes as the ride goes out of control. Megan, the Cast Member, tries to get The Keepers out but Amanda eventually saves them by using her pushing powers. They believed it was the work of The Overtakers even though they thought they wouldn't carry on with their plans without Maleficent and Chernabog. (KK4)

Floor 1: Disney Quest Emporium and Exit

Edit

When Amanda got angry at Finn for sticking up for Charlene after the simulator incident, she leaves the park. However, what se doesn't know is that she's walking straight towards the Evil Queen. Finn adn Charlene catch up to her in tiime but run straight into Cruella De'Vil. Sandwidged between the Evil Queen and Cruella, the Keepers use their fans as a barrier between themselves and The Overtakers and escape. (KK4)
Ad blocker interference detected!
Wikia is a free-to-use site that makes money from advertising. We have a modified experience for viewers using ad blockers

Wikia is not accessible if you've made further modifications. Remove the custom ad blocker rule(s) and the page will load as expected.