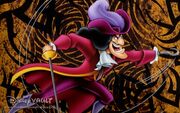 Captain Hook is the main villain in Peter Pan and is featured in Peter Pan attractions and is a Walk-around at The Disney Parks. In 2012, it was revealed that Captain Hook was the most featured villain at The Disney Parks and in other Media. However, he isn't mentioned much in The Kingdom Keepers Novels.
Kingdom Keepers II: Disney at Dawn
Edit
Hook was mentioned by Ariel's Handler to Willa that he had been snooping around Ariel's Grotto recently and that The Handler wasn't happy Willa was snooping around either.
Appearences
Edit
Ad blocker interference detected!
Wikia is a free-to-use site that makes money from advertising. We have a modified experience for viewers using ad blockers

Wikia is not accessible if you've made further modifications. Remove the custom ad blocker rule(s) and the page will load as expected.