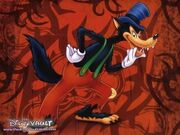 The Big Bad Wolf is one of the two (the other being Pete) Disney Villains that doesn't appear in a film, but instead several cartoons.
Kingdom Keepers IV: Power Play
Edit
In the book, he pursues Pluto, Finn and Amanda to Tom Sawyer Island. On the way he challenges Pluto who manages to make him fall into the lake.
Appearences
Edit
Ad blocker interference detected!
Wikia is a free-to-use site that makes money from advertising. We have a modified experience for viewers using ad blockers

Wikia is not accessible if you've made further modifications. Remove the custom ad blocker rule(s) and the page will load as expected.