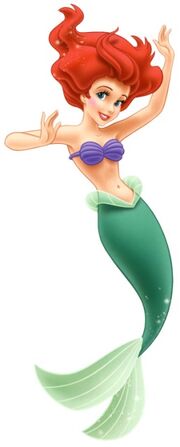 Ariel is the main character of the 1989 Disney film The Little Mermaid and is part of many attracions at Walt Disney World. She is also apart of the Disney Princess franchise. The attractions she appears in are:
Mickey's PhillerMagic
Fantasmic!
Voyage Of The Little Mermaid
Under the Sea: Journey of the Little Mermaid
The Sorcerors of the Magic kingdom.
Kingdom Keepers IV: Power Play
Edit
In the book, Ariel rescues Willa from the attack coming from Frollo and The Toy Story Soldiers. She takes her to the Behind the Scenes section of Voyage of The Little Mermaid and then Hollywood Studios' water tower. There she reveals other characters are willing to help The Keepers who are The Characters Saviours. Like Minnie, she also shut off any information she knew about Mickey but helped The Keepers identify the man on Jess's diary page. She revealed to Willa she hardly ever gets to see Prince Eric. She said she loves to pull pranks and showed she was brave when she provided a distraction so Willa could escape the Park. Despite getting her own attraction in the Fantasyland Expansion, Ariel doesn't seem to be looking forward to it. Also she said the updating was because of 'That Night' when the Characters heard noises and there was 'a struggle of some kind'. Ariel revealed that after hours she can transform form Mermaid to human whenever she liked.
Kingdom Keepers VI: Dark Passage
Edit
She appeared in Hollywood Studios with Pluto, Tigger and Megara. When Amanda and Jess arrived, Ariel was the first to meet them and informed them that they were willing to help in the fight against the Overtakers. She also told them that they had powers as well, adressing Megara's healing knowledge.
Appearences
Edit
Ad blocker interference detected!
Wikia is a free-to-use site that makes money from advertising. We have a modified experience for viewers using ad blockers

Wikia is not accessible if you've made further modifications. Remove the custom ad blocker rule(s) and the page will load as expected.