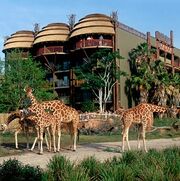 Animal Kinngdom Lodge is located on the edge of Animal Kingdom.
It is the place where the sleeping Willa and Philby were kept. When Finn and Maybeck entered the lobby, they felt like none was looking at them, that their DHI's didn't exist and their faces wouldn't be recognised. Finn and Maybeck searched all of the rooms that had a Do Not Disturb sign on it and put their ears to the door to hear the noise the DS's made whenever it got a new message. Eventually they found the right room and got in. However they found Willa and Philby were definately in SBS. They also had to battle Orangutans whilst Charlene was pressing the button to fee the DHI's of Willa and Phliby. Luckilly, Maybeck and Finn dealt with the Orangutans with bath robes and rescued Philby and Willa.
Appearences
Edit
Ad blocker interference detected!
Wikia is a free-to-use site that makes money from advertising. We have a modified experience for viewers using ad blockers

Wikia is not accessible if you've made further modifications. Remove the custom ad blocker rule(s) and the page will load as expected.